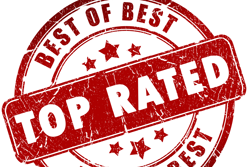 Friday, March 31, 2017 3:25 PM
Hi Michael,
I just wanted to thank both yourself and Gene for all of your help. Marty Everhard at LCA was also a pleasure to do business with.
It is rare nowadays to deal with competent people who are willing to "go the extra mile" for their customers.
I know that this is not a huge purchase, but it is a key piece of equipment needed for a contract that I was just awarded, So to me you guys are outstanding.
I will definitely do business with you again.
Best Regards,
Hedge Fairbank Sr.
Bay Precision CNC
_______________________________________________________________________
To Carol Kopyta's supervisor August 13, 2009
Dear Madam / Sir,
I have recently had a very good experience dealing with Penn Tool Company's Customer Service.
I was in need of an Operator's Manual for a lathe that we purchased from Penn Tool in 2003. I was really did not expect Penn Tool to have this manual as I do not think you currently are marketing this line of lathes.
Your Customer Service person Carol Kopyta handled my request in a most professional and expedient manner. As it turned out she knew the right person to ask, got the information correct and within a very short time had the document mailed to me.
What is particularly impressive is not that Penn actually had a manual but the expedient manner in which Ms. Kopyta handled my request.
In a time and culture where customer service is often times greatly lacking it is heartening to know there are some people who are still conscientious and diligent.
My already high opinion of Penn Tool has been elevated yet higher by Ms. Kopyta's excellent response to my request.
Keep up the good work. I will look forward to conducting business with Penn Tool in the future.
Regards,
John (From NJ College)
Got exactly what we needed when we needed.

By JONATHAN STRANGE on November 28, 2011.

on completion of purchace Amazon email stated delivery could be up to 4th October (3wks) I was going back to UK in 2 wks, I emailed PENN TOOL CO and they shippe…

Read more

By Paul B. on October 5, 2011.

Shipped FAST, thanks-needed this for my college course. EXCELLENT condition, will by from again!!!

By llns12468 on September 24, 2011.

Item was as described and arrived in a timely fashion.

By Jerry B. on September 23, 2011.

By the berg on September 4, 2011.
Good purchase, excellent material.

By Mark on June 29, 2012.

By Valeri Hemming on June 26, 2012.

Received 2 of one item and none of the other one ordered.

By Saverio C. on May 25, 2012.

Quickly shipped, packed safely. Item is just as described

By Melissa S. on March 28, 2012.

Sent me the 29th Edition, which I had to return. They accepted the return and refunded the money.

By Beverly Pearson on March 15, 2012.
Friday, May 06, 2016
John From Gun/Arms Mfg in Howe TX
| | |
| --- | --- |
| Comments | Love your company and service! Sharing and passing the word in my area for your fine company! Keep up the good work! |